The entire platform is centered on the case management function which provides all the capabilities to support a knowledge worker who determines what to do after the case has been started.
This is a powerful core that consists of a folder that can store anything: documents, data records, files, and what you need to associate with the case once it is started. As the knowledge worker works forward in whatever way the case demands, the supporting information can always be aggregated in this one folder. The underlying capability is based on the powerful open source Alfresco document management system, which not only stores the document, but offers capabilities to convert documents to other formats and allows full text search of the all the data.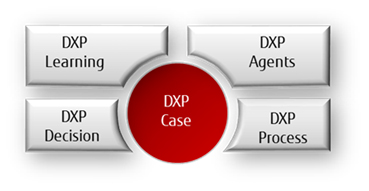 Storing the data is only part of the job. In mission critical-case management, the knowledge worker needs to be able to accurately control access to the information, without getting bogged down with setting detailed rights on every artifact. Powerful role-based access control is needed that is integrated directly with the tasking system, so that when the knowledge worker assigns a task to someone, they can automatically gain the right access to the supporting materials in a single action.
A case folder spans many processes. With a given case, the knowledge worker can use multiple business process applications, and can have any number of business process instances in the case as needed. The case worker is driving the case forward, by bringing to bear many instances of predefined, useful business processes as needed.
Case actions and process actions are seamlessly blended together in a single environment that allows for continuous improvement of all enterprise activities.